Traditional and creative people work together

Posted date: 29 Jan 2019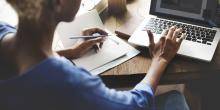 s part of the project "CTCC - Creative Traditional Companies Cooperation", from 21 to 23 January 2019 lectures and workshops were held for companies in the creative sector (design, architecture, game design, software, ...) and the Blue / Green Economy (sustainable Energy industry, maritime industry, maritime tourism, ...).
After three previous events in Klaipeda, Szczecin and Karlsham this was the first project event in Germany.
Above all, it gave regional traditional and creative companies the opportunity to network better with one another and with international companies and thus jointly develop new creative solutions.

The event is being organized by the European Project Center of the Faculty of Business and Economics at the University of Wismar together with the two Rostock partners Season of Creativity eV and the ATI erc. organized gGmbH.
Posted By

GSP Admin