Exploring Estonia's Premier Universities and Outstanding Academic Programs

Posted date: 12 Sep 2023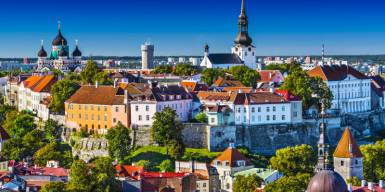 Estonia, a vibrant Baltic nation celebrated for its picturesque landscapes and innovative digital society, has emerged as a prime destination for international students seeking world-class education. Estonian universities offer a diverse range of academic programs, and in this article, we will explore the best universities in Estonia and highlight the top academic programs that attract students from all corners of the globe.
Best Estonian Universities
Estonia boasts several esteemed universities that consistently rank high in global education rankings. Here are some of the best Estonian universities renowned for their academic excellence:
University of Tartu (Tartu Ülikool)
Established in 1632, the University of Tartu is Estonia's oldest and most prestigious university. It is consistently ranked as one of the top universities in the Baltic region and Northern Europe. The university is known for its strong focus on research, offering a wide range of programs in various fields.
Tallinn University of Technology (TalTech)
TalTech is a leading technical university in Estonia, recognized for its innovative programs and cutting-edge research. The university excels in engineering, IT, and business-related disciplines. TalTech's close ties with the technology industry make it a hub for aspiring engineers and tech enthusiasts.
Tallinn University
Tallinn University is known for its social sciences, humanities, and media studies programs. It offers a multicultural environment with a strong emphasis on interdisciplinary research and global perspectives. Tallinn University's vibrant campus is an ideal place for students interested in liberal arts and social sciences.
Top Academic Programs in Estonia
Estonia's universities offer a wide array of academic programs, each with its own set of advantages. Here are some of the top academic programs that international students often pursue in Estonia:
Information Technology and Computer Science
Estonia's tech-savvy environment and reputation as the "Silicon Valley of Europe" make it an ideal destination for IT and Computer Science programs. Students have access to cutting-edge technology, innovative research opportunities, and high employability in the tech sector.
Engineering (Mechanical, Electrical, Civil, etc.)
Estonia's engineering programs are known for their practical approach, strong industry connections, and hands-on experience. Students receive excellent training in various engineering disciplines, setting them up for successful careers in sectors like manufacturing and construction.
Business and Economics
Estonia's strategic location within the European Union and its dynamic business environment make it an excellent place to study business and economics. Programs emphasize entrepreneurship, innovation, and practical experience, preparing graduates for success in the global market.
Social Sciences and Humanities (Psychology, International Relations, Sociology, etc.)
Estonia's universities offer diverse social sciences and humanities programs that encourage critical thinking and a global perspective. These programs prepare students for careers in research, diplomacy, NGOs, and more.
Environmental Science and Sustainability
Estonia's commitment to sustainability and its stunning natural landscapes makes it an ideal destination for environmental science and sustainability programs. Students have access to unique research opportunities and the chance to contribute to environmental conservation efforts.
Medicine and Healthcare
Estonia's medical programs offer high-quality education and modern facilities. Graduates find employment in Estonia's healthcare system and can pursue international medical careers.
Language and Culture Studies
Estonia's multicultural society and rich cultural heritage provide an ideal environment for language and culture studies. Students can immerse themselves in the Estonian language and culture while developing valuable cross-cultural communication skills.
Conclusion
Estonia's best universities and top academic programs provide students with diverse opportunities for education and personal growth. Whether you're interested in technology, engineering, business, social sciences, or the environment, Estonia offers a supportive and innovative environment for your academic pursuits.
The advantages of studying in Estonia extend beyond the classroom and include a welcoming atmosphere for international students, access to cutting-edge research, and a gateway to European culture and society. As Estonia continues to position itself as a global education hub, students from around the world are discovering the enriching experiences and valuable education opportunities it provides.
Posted By

GSP Admin