Women Outnumbered Men in Dutch Universities for 23rd Consecutive Year

Posted date: 16 Mar 2023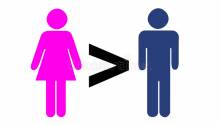 Statistics Netherlands (CBS) has revealed that during the 2021-2022 academic year, universities of applied sciences in the country registered 443,000 female students compared to 393,000 male students.
- Advertisement -
According to CBS, the 2021/22 academic year is the 23rd year in a row that shows that in Dutch universities, there are more women than men enrolments, SchengenVisaInfo.com reports.
Data show that most people in the Netherlands are pursuing higher education. As a result, over the past decade, higher vocational education (HBO) enrolments have grown from 424,000 in the 2011/12 academic year to over 491,000 in 2021/22. At the same time, at the university level (WO), enrolments increased from more than 245,000 to almost 345,000.
Regarding the gender balance in higher education, in the academic year 2021/22, it has been disclosed that 54 per cent of those enrolled in university and 53 per cent of those enrolled in higher professional education were female students.

Reference Link: https://www.schengenvisainfo.com/news/women-outnumbered-men-in-dutch-universities-for-23rd-consecutive-year/
Posted By

GSP Admin