The University of Ostrava has acquired the institutional accreditation

Posted date: 27 Feb 2019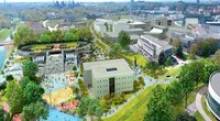 As only the 6th university in the Czech Republic the University of Ostrava has acquired the so called "institutional accreditation" which confirmes its quality and it gives the university considerable freedom. It has succeeded in seven areas of education, by which it has covered majority of its study programmes.
The university was preparing for two years for the whole process. It was needed to adjust most of the current university international regulations and to accept few new, to establish the Board of internal evaluation of the University of Ostrava, to set a new system of evaluation of study programmes, to accept its own standards of the study programmes quality and to prepare the specific application for the institutional accreditation.
The new system of accreditation means significant changes for the applicants. From the academic year 2019/2020 the universities will be changing the existing arrangement of study programmes which were divided into study fields and will turn to newly accredited study programmes allowing specialization.
So far only five Czech universities have got the institutional accreditation. The first one was the Charles University in Prague, second Masaryk University in Brno, then Palacky University Olomouc, university in Pardubice and the Technical University of Ostrava.
Posted By

GSP Admin