Stockholm reporting continued growth in international student numbers.

Posted date: 06 Mar 2019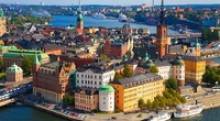 In 2011, the Swedish government decided to introduce higher education tuition fees for non-European Union/non-European Economic Area students. The number of foreign students in Sweden promptly declined and continued to do so until about 2014, when we first observed a modest recovery.
A new report from the Stockholm Academic Forum (STAF) – a peak body made up of local government plus the city's 18 higher education institutions – provides further evidence of continuing growth since 2014, with foreign student numbers in Stockholm now approaching 2011 levels for the first time since the new tuition policy was introduced.
Study Destination Stockholm: Report on International Student Mobility, Stockholm 2017-2018 reports just under 10,000 international students in Stockholm as of the 2017/18 academic year. Those numbers have grown by 5% year-over-year, about 20% in total over the last three years, and are on pace to surpass the previous high point from 2011 sometime this year.
Roughly one in four international students in Sweden is studying in Stockholm and so the report also provides an interesting directional indicator as to overall student numbers in the country.
Posted By

GSP Admin