RTU RETAINS ITS LEADER POSITION IN LATVIA IN THE PRESTIGIOUS QS WORLD UNIVERSITY RANKINGS

Posted date: 28 Jun 2020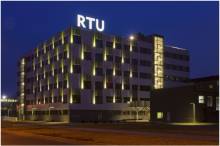 Riga Technical University (RTU) has been ranked in the 701 to 750 range of QS World University Rankings 2021, which is the highest score among three Latvian universities included in the ranking. RTU received the highest appraisal for its increase of foreign students, and in this indicator RTU improved its position by 66 places, ranking 371st in the global assessment.

RTU has been evaluated on different rankings and with different assessment methods un has been ranked as the best university in Latvia – this is attested by U-Multirank results published on June 9 and by Times Higher Education Impact results published in April, in which RTU was ranked among 200 best universities in the world. On QS Stars ranking as well, RTU was evaluated with five stars, which is the highest evaluation. The achievement of RTU on QS World University Rankings 2021 confirms once more that we are the national leaders. Of course, RTU does not have the success as the University of Tartu, but considering the funding available to us, the results are very good, because our calculations show that as we move towards internationally recognised excellence, among all Latvian universities RTU has the highest return, taking into account budget opportunities, emphasizes Juris Iljins, Director of Administration.

1 02 higher education institutions from 93 countries included in the QS World University Rankings 2021 ranking were assessed taking into consideration six criteria – Academic Reputation, Employer Reputation, Citations per Paper, Faculty/Student Ratio, as well as International Faculty and International Students. In four out of six criteria – International Students, Faculty/Student Ratio, Citations per Paper and Academic Reputation – RTU has shown higher results in comparison with the previous year.

The assessment of Academic Reputation and Employer Reputation is based on extensive international surveys. Employers and academicians not only from Latvia but also from other countries expressed their opinion about RTU. The performance of higher education institutions in the remaining four criteria was assessed on the basis of submitted data that was verified according to internationally available information. Internationalization is one of the most significant priorities of RTU, which has been emphasised in RTU strategy. Targeted activities have resulted in a rapid increase in the number of foreign students in recent years, and currently there are students from 86 countries studying at RTU.

Posted By

GSP Admin