Northumbria academic receives £1.2 million to deliver world-class forensic research

Posted date: 24 Sep 2019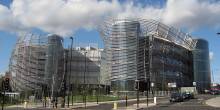 A Lecturer in Forensic Science at Northumbria University, Newcastle, has been awarded more than £1 million to develop a world-leading new technique that will unveil details to help solve investigations relating to unidentified bodies.
Dr Noemi Procopio of Northumbria's department of Applied Sciences is one of the second wave of researchers to be awarded the UK Research and Innovation (UKRI) Future Leaders Fellowship.
One of UKRI's flagship schemes, the Future Leaders Fellowships is a £900 million government investment fund that is helping to establish the careers of world-leading researchers and innovators across UK academia and business. The initiative provides Fellows with the support, flexibility and time they require to work on ambitious programmes of research.
For Dr Procopio, the award of £1.2 million, of which £930k is funded by UKRI, will enable her to benefit from outstanding support to develop her career and to tackle challenging research in the field of forensic science.
At present it is estimated that 1,500 unidentified bodies are present in the UK and 40,000 in the USA, and it is thought that these numbers could represent just the tip of the iceberg.
Dr Procopio's research utilises some of the most cutting-edge technologies available to address two vital questions that a forensic scientist is asked to solve a crime or to assist in the identification of unknown victims: the time elapsed from his or her death, which is known as the post-mortem interval of the victim and the age at death of the victim.
Although several different approaches can currently be used to answer these questions, they have been criticised for their lack of objectivity, quantifiability and accuracy. This is largely due to the fact that the approaches are mostly based on the morphological examination of the skeletal remains and on the expertise of the forensic anthropologist who perform
Posted By

GSP Admin