Global business trusts us: Continental Automotive Lithuania and KTU became official partners

Posted date: 06 Sep 2019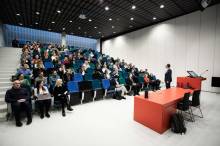 Kaunas University of Technology (KTU) and Continental, a German manufacturer of technology and automotive components signed the official cooperation agreement. With the long-term agreement, signed by KTU Rector Eugenijus Valatka and Shayan Ali, Managing Director at Continental Automotive Lithuania the University and Continental have formalised the collaboration which has been going on for more than a year.
The partnership will include solving technological problems, implementing research and development projects, initiating closer collaboration among science, studies and industry practitioners.
"We no longer discuss the need for collaboration between science and business – it is the reality we are living in. KTU has been working in this direction for many years, and the cooperation agreement with one of the largest foreign investors in Lithuania is only demonstrating that we have gained the trust of the business. This trust is a crucial condition for a successful partnership", says KTU rector Professor Eugenijus Valatka.
Posted By

GSP Admin