Germany Grants Right to Re-Naturalization to People Stripped of Their Citizenship by National Socialism & Their Descendants

Posted date: 07 Apr 2021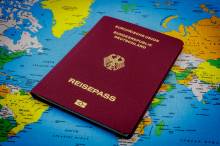 All former German citizens, who have been stripped of their citizenship by national socialism, as well as their children, are now entitled to re-naturalization to become German citizens. In a meeting held on March 24, the German Federal government has approved a draft of a fourth law to amend the Nationality Act, which had previously been passed by the Ministry of the Interior on August 30, 2019.
Commenting on the approval of the draft amendments, the Federal Minister of the Interior for Building and Home Affairs, Horst Seehofer, who brought the proposal forward, said that the updated law is not a mere reparation to those who had their citizenship taken away but rather "an apology in deep shame." "It is very fortunate for our country when people want to acquire German citizenship, even though we have taken everything from their ancestors," he noted.
The drafted amendment intends to allow descendants of persons persecuted by Nazis, who among others suffered disadvantages in terms of nationality but who do not fall under the claim under Article 116 (2) of the Basic Law. The decision also includes children of German and former German citizens who were born before January 1, 1975, or July 1, 1993, as well as their descendants.
In a press release issued by the Ministry of the Interior regarding the decision, the Federal Government acknowledges the historical responsibility towards descendants of those persecuted by the German Nazis. "[The government] regards it as a great vote of confidence if the descendants of Nazi victims who have inevitably emigrated want to acquire German citizenship again today," the press release reads.
In September last year, in the meantime, the Austrian authorities had made known their decision to facilitate the citizenship application procedures for descendants of Nazi victims. Beneficiaries of this decision are not only victims of the Nazi regime but also their descendants, be it their children, grandchildren, or others. The simplified procedures include the exemption from the obligation to provide secure livelihood in Austria, paying fees, and the same are also allowed possessing dual citizenship. In addition to this, there is no deadline for submitting applications.
Commenting on the move, Austrian Interior Minister, Karl Nehammer, had amongst others, said that the opportunity for descendants of Nazi victims to obtain Austrian citizenship is a sign of deep respect for victims and their family members.
Reference Link: https://www.schengenvisainfo.com/news/germany-grants-right-to-re-naturalization-to-people-stripped-of-their-citizenship-by-national-socialism-their-descendants/
Posted By

GSP Admin