Five Oxford researchers awarded Future Leaders Fellowships

Posted date: 23 Jun 2022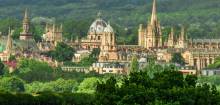 UKRI has announced its latest round of Future Leaders Fellowships, including five Oxford recipients.
Five Oxford researchers are among 84 of the most promising research leaders across the UK to benefit from £98 million of UKRI funding to tackle major global issues and to commercialise their innovations in the UK.
UKRI's flagship Future Leaders Fellowships (FLF) are designed to enable universities and businesses to develop their most talented early career researchers and innovators and to attract new people to their organisations, including from overseas.
Posted By

GSP Admin