Changing the lives of people living with dementia with new memory supporting app

Posted date: 17 Mar 2020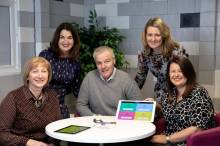 InspireD, which has been developed by Scaffold Digital in partnership with Ulster University, the Public Health Agency (PHA) and Health and Social Care NI (HSCNI ), is designed to help people living with dementia and their carers to store photographs, music and film clips which can then be used to prompt conversations about past experiences and important life events.

It is a revolutionary step in the digitisation of the healthcare sector and will make Scaffold Digital a pioneer in the field with a first-of-a-kind app to be endorsed by prominent healthcare authorities and physicians .

InspireD will work by enabling people living with dementia, their carers and families, to create a digital memory book with photos, video and sound.

It boasts a guided uploading and navigation process to allow users to add and organise content as well as recording voice notes and more.

Pending final tests from industry evaluation authority Organisation for the Review of Care and Health Apps (ORCHA), the app will be available this summer.
Posted By

GSP Admin