Study Mass Media and Communication abroad and Reach the Masses!!

Posted date: 02 Jul 2019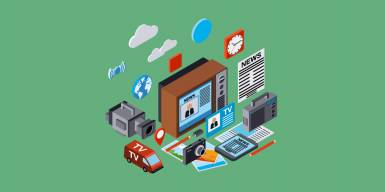 Are you fascinated by the way a news story gains momentum, an image or video goes viral, or the whole process that goes into getting an idea from script to screen? If any of these applies to you, then you may be heading for a media and communication degree. This relatively young academic discipline once had a lot to prove, but in today's media-dominated cultural landscape, media and communications have become some of the most relevant, exciting and powerful subjects you could choose to study.
In recent years, the field of mass media and communication has evolved into a partially interactive concept that touches almost every aspect of human life. And, with the sheer proliferation of media into our lives through newspaper, television, and internet the field of mass communication is gaining popularity like never before. Unlike the complex streams of engineering and medical, one does not need to have a "set formula" to succeed in the field of mass communication. However, all that one needs is the passion, drive and right skills to make it big as a mass communication and media professional.
The Media and Communication sector has emerged as a dynamic and diverse degree option globally. The sector has come forth with more programmes, research options, and more range of career opportunities. Mass Communication is a medium of dispersing information to a large number of people. The slightly broader field of communication studies extends beyond areas typically considered within the "media" domain, to explore human communications in all kinds of environment and context. This includes not only careers in media such as journalism, marketing and entertainment, but also business and management, education, politics, international relations, law and more.
Media studies courses may vary significantly in their content and approach to the subject, but most offer a combination of practical preparation for various media careers, alongside opportunities to analyze media representations from different perspectives – including moral, political and historical. For instance, as well as gaining practical skills such as film production or copy-writing, students may also have the opportunity to explore issues such as media representations of gender or race, or of a particular culture or political conflict.
Why abroad?
Various Media and Communication programmes abroad aim to prepare students for a career in media-related industries. Students are equipped with skills to critically analyse news and media and reflect their ideas and thoughts. In broader terms, communication studies extend beyond just domain knowledge and expertise, but also to explore human communications in all kinds of environment and context. The content and approach of the curriculum or the subjects offer a combination of practical preparation for various media careers. Top universities around the world offer courses with a different specialisation such as audio journalism, graphic communication, international communication, opening interesting work avenues for the students. Students are given study abroad options for a semester, capstone projects, opportunities to cover conferences and seminars, and also work on global research under the guidance of faculty.
Candidates successfully completing a mass communication course have ample career opportunities in various media fields. A professional course in mass communication opens doors for a career in television, films, publishing, journalism, editing, public relations, event management, filmmaking, production, scriptwriting, direction, advertising, and so on. Whether print or digital, we are bombarded by media every day. Gain a competitive edge and get your work seen by completing a communications degree.
Posted By

GSP Admin