Study in Estonia - An international Tech-Savvy destination where Digital Nomads feel at home

Posted date: 14 Feb 2020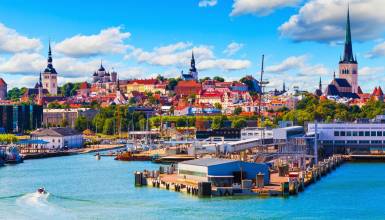 Estonia is a tiny Northern European republic. Despite its size, Estonia provides plenty of space and opportunities to study for foreigners coming here. On the one side, it is one of the world's greenest nations, and has a relatively low population density, which makes its living environment very safe. On the other hand, Estonia is the best place to connect with the entire world, as it is a digital innovative country
Less is more
Forests cover more than half of Estonia, which in Europe and the world is quite rare. There are also remote islets, stunning desolate beaches and deep untouched forest areas in the region. Wherever you are, in less than 30 minutes you can get to the wilderness. Having a low density population and more space for each individual does not mean being lonely as a human being. On the contrary, it helps Estonian universities to involve every student in the study process using a more personal approach. Estonia also has less bureaucracy in universities and in government generally, due to its small population.
Digital and start-up-prone
Students are more comfortable living and studying in Estonia because Estonia is a highly digitized society. Declaring your taxes online (in 2 minutes), making bank transfers via mobile phone or doing your weekly grocery shopping without ever leaving home, is very popular. The principles and fundamentals of coding are taught to children as young as 7 years; code use is typically common in all areas of life.
Estonia is also renowned for its start-ups – it takes just five minutes to register a business and, according to The Economist, the country held the world record for the number of start-ups per person in 2013 (many Estonian start-ups are now successful companies that you may recognize, such as Skype, Transferwise, GrabCAD and others). Estonian universities have developed new, innovative programs based on success stories that concentrate on high-tech education (e.g., cyber security, e-governance technology and services, interactive learning games).
Affordable and sensible student destination
Estonia has very low living costs –The business insider has classified Estonia as home to two of Europe's most affordable cities (Tartu and Tallinn) to live in. The same can be said about studying in Estonia-many scholarships and tuition-free programs are available, especially at the level of the Master. As well as being inexpensive, Estonia also has reasonable conditions for students seeking a job. Throughout their studies, foreign students are allowed to work full-time as long as this does not interfere with their education. The taking up of a job does not require a separate permit–if an individual is allowed to study, the right to work is immediately guaranteed.
Students are also allowed to stay in the country six months after graduation to look for a job. If you don't speak the local language, finding a job isn't always easy; however, most Estonians do speak English and the market for English-speaking positions is that. There is an annual work fair specifically organized for students from abroad, which also helps bring companies together.
Estonia is still a very recent discovery among international students and the number of international students is rising by almost 20 per cent each year. The student body is quite diverse–there are students from neighboring countries like Finland, Russia, and Latvia, from other European countries like Germany, Italy, the United Kingdom, etc., and from other countries around the world like the United States, and so on – all together from 90 different countries. They can all choose from 140 degree programs that are taught entirely in English. The most important fact is that, according to the International Student Barometer 2015, 89 per cent of international students are happy with their studies in Estoni
Posted By

GSP Admin