Scholarships for International Students in Luxembourg: Opportunities and Application Tips

Posted date: 18 Sep 2023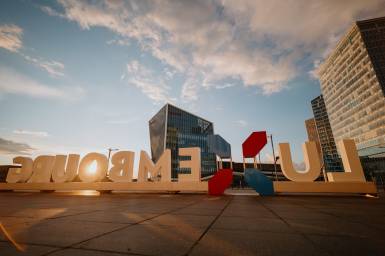 Luxembourg, a small but prosperous European nation, is known for its stunning landscapes, rich history, and a thriving international community. With a strong emphasis on education and research, Luxembourg offers numerous opportunities for international students to pursue their academic dreams through scholarships. In this article, we'll explore the various aspects of studying in Luxembourg, including the country's EU affiliation, its universities, popular scholarships, the cost of living, job options, and social life.
1. Luxembourg: A Part of the EU
Luxembourg, nestled in the heart of Europe, is not only a founding member of the European Union (EU) but also a key financial and cultural hub. Being a part of the EU means that Luxembourg adheres to high academic standards and offers a diverse and inclusive environment for international students. This affiliation also enables students to travel freely within the Schengen Area, making it an attractive destination for those seeking a global education.
2. Universities in Luxembourg for International Students
Luxembourg may be small in size, but it boasts several renowned universities and research institutions known for their academic excellence and innovation. Some of the prominent universities in Luxembourg include the University of Luxembourg, Sacred Heart University Luxembourg, and the Luxembourg Institute of Science and Technology. These institutions offer a wide range of programs, both at the undergraduate and postgraduate levels, across various fields of study.
3. Luxembourg scholarships for International students
- Stipend and Coverage
Luxembourg offers various scholarships to attract international students. One of the most prestigious scholarships is the "Scholarship for Foreign Students," which covers tuition fees and provides a monthly stipend to help with living expenses. The stipend amount varies depending on the level of study and the applicant's financial needs, but it is typically sufficient to cover a significant portion of the cost of living in Luxembourg.
- How Much Cost Does it Cover?
These scholarships generally cover tuition fees, health insurance, and living expenses. Some scholarships may also provide additional support for research-related expenses. The exact coverage varies depending on the specific scholarship and the needs of the recipient. It's advisable to check the details of each scholarship to understand what expenses are covered.
4. Cost of Living in Luxembourg
Luxembourg is known for its high standard of living, and consequently, it has a relatively high cost of living compared to many other European countries. However, with the support of scholarships and part-time work opportunities, international students can manage their expenses. On average, the monthly cost of living, including accommodation, food, transportation, and leisure activities, can range from 800 to 1,200 euros. It's essential to budget carefully and explore cost-saving options, such as shared accommodations and student discounts.
5. Job Options
Luxembourg, a prosperous European nation and a member of the European Union (EU), offers a diverse range of job opportunities for international students and professionals. Its strong economy, particularly in the financial and technology sectors, hosts multinational corporations (MNCs) such as Amazon, PwC, Deloitte, KPMG, and ArcelorMittal, making it an attractive destination for job seekers. The country's advantageous business environment, coupled with high average incomes, ensures promising career prospects. With proficiency in languages such as English, French, and German, and networking within Luxembourg's professional community, individuals can unlock the potential for a rewarding career in this vibrant European hub.
6. Social Life in Luxembourg
Luxembourg's diverse and cosmopolitan population ensures a vibrant social life for international students. The country offers a mix of cultural events, recreational activities, and beautiful natural landscapes to explore. The city of Luxembourg, with its historic charm and modern amenities, provides a lively atmosphere with restaurants, cafes, and nightlife options to suit various tastes.
In conclusion, Luxembourg's commitment to education, its EU affiliation, prestigious universities, and generous scholarships make it an attractive destination for international students. While the cost of living may be relatively high, the opportunities for part-time work and well-paying jobs after graduation can offset these expenses. Additionally, the country's rich cultural scene and welcoming international community ensure that students have a fulfilling social life during their studies in Luxembourg. So, if you're considering studying abroad, Luxembourg is undoubtedly a destination worth exploring.
Posted By

GSP Admin