How Does FAFSA Work?

Posted date: 22 Jun 2022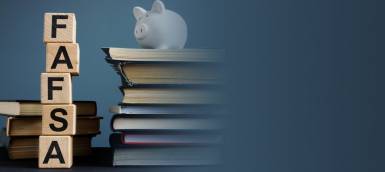 The Free Application for Federal Student Aid (FAFSA) is a process that every university student and their parents should be familiar with. Some people may ignore the idea of trying for student financial aid because they believe they earn too much money to be eligible. They may, however, be eligible for some type of financial support, including federal, state, and school-based assistance, as well as merit-based scholarships, irrespective of their family's wealth.
The FAFSA's main function is to figure out how much financial help a student is eligible for, both in need-based and non-need-based aid. It determines eligibility for federal need-based grants, such as the Pell Grant and the Federal Supplemental Educational Opportunity Grants (FSEOG); subsidized federal student loans, which are based on need; unsubsidized federal student loans, which are available to most students irrespective of need; federal work-study; state-based financial assistance, such as grants, scholarships, and credits; and school-based financial assistance, such as need-based grants and scholarships.
The FAFSA is the official form used by students and parents to apply for federal financial aid for college. The information submitted in the application is also used by states, specific institutions and universities, and private scholarship programmes.
The FAFSA anticipates that 20% of a student's assets and 5.64 percent of a parent's assets should be accessible for spending in any given academic year. Bank accounts and investments are included, but retirement accounts, insurance plans, and annuities are not included. Any equity in the family home is also not taken into account.
The data you provide on the FAFSA decides whether you are eligible for need-based, non-need-based, or a mix of the two types of financial aid. If you aren't able to fill out the FAFSA, you can use the Department of Education's Federal Student Help Estimator to get an estimation of your EFC and chances of receiving financial aid.
FAFSA will be beneficial to most families, regardless of how much money they earn or how much money they have amassed in assets. Even if they are not able to get free money in terms of grants or scholarships, they are likely to be qualified for non-need-based aid from the federal government on the basis of direct unsubsidized loans. Federal student loans usually have better terms than private student loans and come with a number of flexible repayment alternatives.
Posted By

GSP Admin