CZECH REPUBLIC, A COUNTRY THAT EXCEEDS YOUR CAREER EXPECTATIONS.

Posted date: 08 May 2019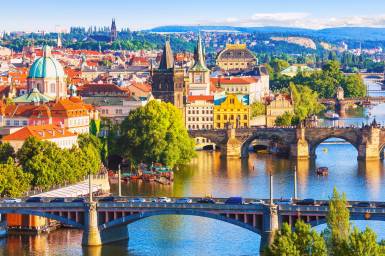 The Czech Republic is an amazing and uniquely beautiful country, where you can visit several cultural attractions and also enjoy splendid natural beauty. Czech Republic is often overlooked by many students who consider study abroad destinations but actually it is a fascinating and welcoming country. The high quality and tradition of the Czech education and research is widely recognized, especially when it comes to studying in the Czech Republic. Studying in the Czech Republic provides the opportunity to travel cheap and fast around Europe. Studying in the Czech Republic, you have a great chance to discover all European countries and places you might otherwise not have had the opportunity to visit.
If you study a course taught entirely in Czech Republic, tuition fees are free, according to the country's law. The price for tuition is equal for both EU/EAA and non-EU/EEA students. Admission costs are the only enrolment costs you will have to endure, unless you decide to extend your studies beyond a certain duration limit. In the Czech Republic, living costs are definitely cheaper than most countries in Western Europe.
Another benefit studying in the Czech Republic is the optimal way to learn a new language. There is no better and more effective way to learn a new language than to be immersed in a culture that speaks the language you are learning. Studying in the Czech Republic would definitely improve your language skills and help you be more unique on the global market when looking for your future job.
Studying in the Czech Republic also enhances employment opportunities. Universities and employers know that studying abroad provides leadership skills in a world that is increasingly globally interconnected. Through an employer's eyes, a student who has studied abroad is self-motivated, independent, willing to embrace challenges, and able to cope with diverse problems and situations.
Therefore, studying in the Czech Republic can enhance the value of your degree and you have an affordable lifestyle, low tuition and a wide range of study programmes to choose from, and to all of these you can add tons of social and cultural activities. Whether you choose Prague, Brno or other city in the Czech Republic as your country to study it is for sure you'll have the most amazing study experience.
Posted By

GSP Admin