Croatia- The scenic beauty and the ultimate study destination!

Posted date: 09 May 2019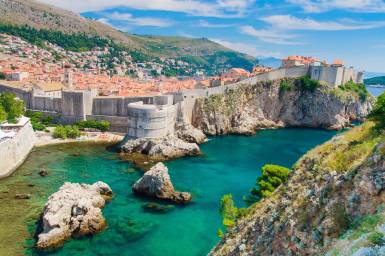 Croatia- the biggest historic heritage, the natural beauty, with its mix of Mediterranean and South-Eastern European charm and its pleasant climate is one of the best tourist destinations in the world. Over 18 million people across the globe have visited Croatia. Zagreb is the capital of Croatia and also the largest city in the country. It is the political, economic, cultural and scientific centre of Croatia. Around 400,000 British people visit Croatia every year, due to its emergence in recent years as a popular tourist destination. Life moves at a relaxed pace in Croatia, not only on the islands, but also on much of the mainland. Croatia is very safe for solo travelers and women. Croatia is a beautiful country, with vast natural resources, clean water, clear sea, and with almost no pollution issues. Despite being a country of relatively small size with a close-knit community, the Croatian people are not only welcoming but are also multi-lingual. According to a survey, 49% of people in Croatia speak English. The country always promotes the education system, international students and Entrepreneurship. There are a large number of programs that are open to international students in the country. Croatia is relatively cheap when it comes to living costs, especially compared to countries in Western Europe. However, prices will of course be higher within bigger cities. For a student, the cost of living in Croatia is around 300/700 EUR depending on their accommodation preference that is, either a dormitory or a private house.
Exploring this unique country while studying is a major benefit for students with interest in travelling. Croatia has 128 higher education institutions located in all parts of the country - including a total of 36 on Croatia's spectacular Adriatic coast! There are 8 public universities in Croatia and they provide comfortable environment for international students and are ranked in the top 10 among other Universities for international students. The Universities have great infrastructure and provide endless services making them an ideal choice of study for international students. Having signed up to the Bologna Process higher education, Croatia is similar to the rest of the European Union with the same values and standards as other European nations. Undergraduate degrees in Croatia normally last for three to four years, and carry a bachelor's qualification that is recognized all over the world.
Croatia is an ideal place for students wishing to study in a country renowned for its beautiful coast, for its mix of Mediterranean and South-Eastern European charm and for its rich historical and cultural heritage. In life, you never get a second chance so, throw away your bowlines, sail off from the safe harbor, catch the trade winds in your sail, explore, dream and discover!!.After all it is all about developing new skills, learning new culture and making new friends.
Posted By

GSP Admin